If you have ever travelled across Southern Canada by road, you probably traversed the Trans-Canada highway. On your way, you may have travelled the stretch between Thunder Bay and Sault St. Marie, Ontario, along the shore of Lake Superior. Somewhere between lays the sleepy town of Wawa, in Algoma County.
Wawa is beautiful with many hidden gems to explore, but nothing, shall we say, to stop traffic. Apart from one thing. As well as being a welcome midway point to take a rest and grab a Timmies, or overnight at a hotel, Wawa is home to something unique: The world's Biggest Goose.
The original Goose was built to attract visitors off the highway when the Trans-Canada highway bypassed the town in 1963. It worked. The Goose became one of the most iconic landmarks in Southern Canada and certainly the most photographed. The original wood and plaster goose was moved to the town high street, replaced by a bigger and more durable steel goose, in 2017. And still the tourists flock. Pun intended.
Big Goose Rising
This image was taken at dawn one chilly Autumn morning. The sun broke over the horizon as I shot over the shoulder of this massive monument. By intent. I worked it in to our schedule and timed it just so. This is exactly the shot I wanted. The Goose watches silently down over weary travellers plying their way from unknown departure points to unknown destinations across Canada. It is a waypoint, a comfort, and a talisman.
This image of the Big Goose is offered as a symbol to all travellers. Canada is a very large country. Lots to see, and lots of ground to cover. It's nice to think that as you pass Wawa, the all-seeing Big Goose has your back.
Click HERE to see this design on 67 available products (opens in new tab)
---
Click any image to view at a larger size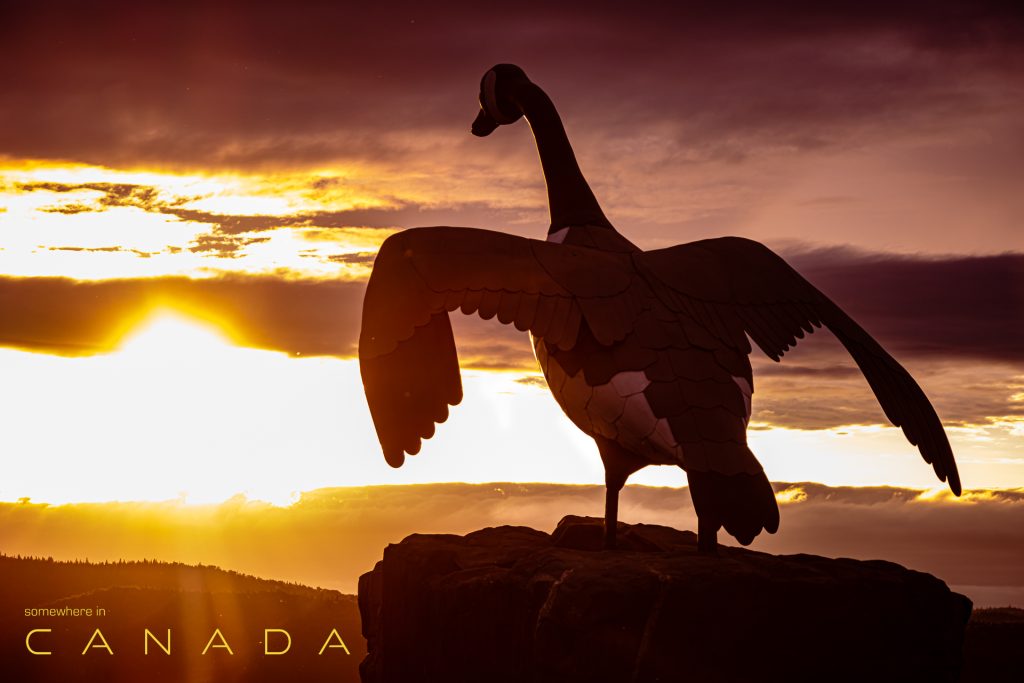 share this with friends: