I moved to Canada almost 20 years ago. For all that time I have lived in the city of Port Coborne, nestled on the north shore of Lake Erie, just west of Niagara Falls. Port Colborne may not be world famous, but it has world class amenities. Including a marina, an abundance of sport and recreational amenities, a thriving Arts community, and gourmet dining from around the world. It would take a book to contain all the things someone can do in and around this seemingly sleepy city. And it is said that a picture says a thousand words… So I made this.
A Thousand Words
This artwork is a visual representation of just some of the things Port Colborne offers, each and every day.
Each word in this design (OK, there are fewer than a thousand) triggers a separate conversation. Brings memories and anecdotes, and ideas for new adventures. I polled my social media channels for suggestions to refine the original design, which was a little smaller. I asked for words that defined and described what Port Colborne meant for them. It triggered quite a response. I am not alone in loving this city. I incorporated some suggestions, made changes in other places, and enlarged the cube as much as I thought I could and still have it be legible. But I could have added many, many more. I'd like to thank everyone that made a suggestion for their gratefully received feedback. You helped.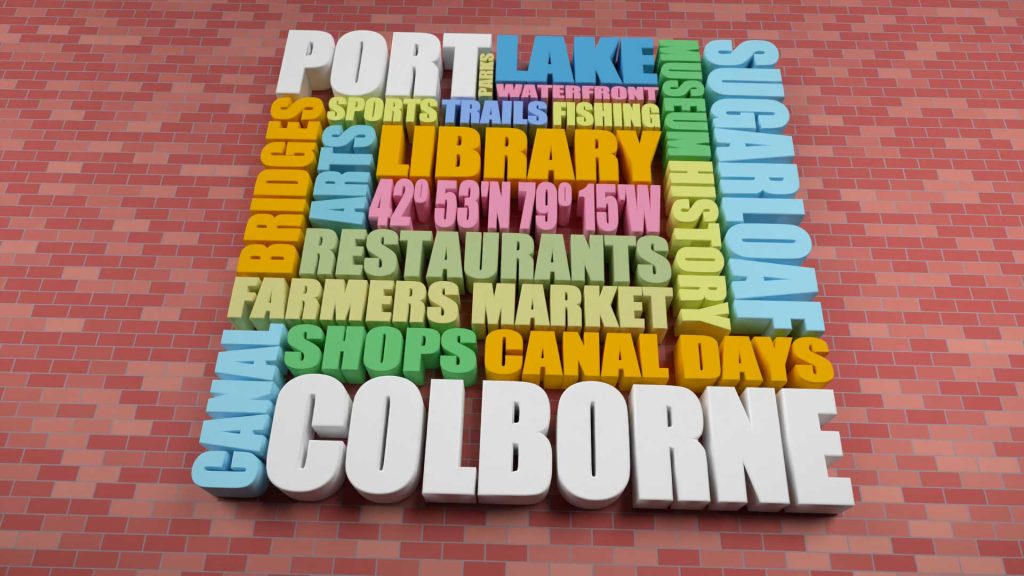 The Centre Of The Universe
At the heart of this cube face are some odd-looking numbers. It's central to the design both visually and conceptually now. Younger viewers may not recognize these numbers. They are map coordinates. So many degrees by so many minutes North, then so many degrees and so many minutes West. Latitude and longitude.
The coordinates are for the market square right in the middle of the city, across from City Hall. For this design, and this city, that is the beating heart. Plug these numbers into your phone or type them into Google maps, and get directions right to Port Colborne, where all of these activities and many more delights await you.
Port Colborne is family friendly. Bring the kids. Enjoy other activities that I did not have room for. Such as horse riding, kayaking, cycling, visiting one of our lighthouses, or take in a classic car show. Or a craft show. Or an open air concert.
There really is something for everyone. Port Colborne. My home town. I love it. You will too.
---
For those that would like such a thing, this design can grace your walls as a reminder of why you love to visit or live in this beautiful little city. Available in our store. Other products and sizes by request. Get yours today.
Here's the link… https://gystservices.com/product/port-colborne-cube/
share this with friends: