November 26th is the date of the Port Colborne Optimist club annual Christmas Bazaar. This popular community event includes bake and penny sales, door prizes, and a number of craft vendors displaying their artistry and wares. Lunch is available for those that want a bite and a beverage.
Guests can browse at leisure, connect with friends new and old, and perhaps pick up some early holiday gifts.
As a board member of the PC Optimist Club board my contribution was making the event poster you see below, and may have seen around town. I made another contribution but I will reveal that closer to the day.
Along with other board members I will be in attendance at the event. I'll be mingling and taking photographs. Helping as needed and just generally getting in the way of those doing actual work. The Club and all the vendors hope to see many friendly faces, and to meet and make new friends. Come on out and enjoy the fun!
Questions?
To answer one common question, vendor spots are now closed. We are at capacity. To answer the next common question, I do not have a vendor list. One of our other hard working members handles the vendors and all I can say about who will be there on the day is "Come out and see!"
For real-time answers to any other questions about the event, reach out to any Club member you know, ask through the comments here, or hit me up with a DM anywhere on any of my social media channels below.
Fundraising
Christmas Bazaar proceeds help aid the many causes supported by the Optimist Club. For those interested in the fundraising aspect we are always happy to discuss our Club activities and how you can get involved. We are always seeking new members. More on that later, too.
If you don't fancy club membership, that's completely cool. Just by spending time and maybe a few dollars during your visit to our friendly event you will be supporting the community. All while hanging out and having fun and meeting people. I consider that a few hours well spent on a Saturday in November.
Whether you spend money or just hang out, we look forward to seeing you at the Port Colborne Optimist Club Christmas Bazaar. Put the date in your calendar: November 26, Guild Hall, Port Colborne.
We hope to see you there!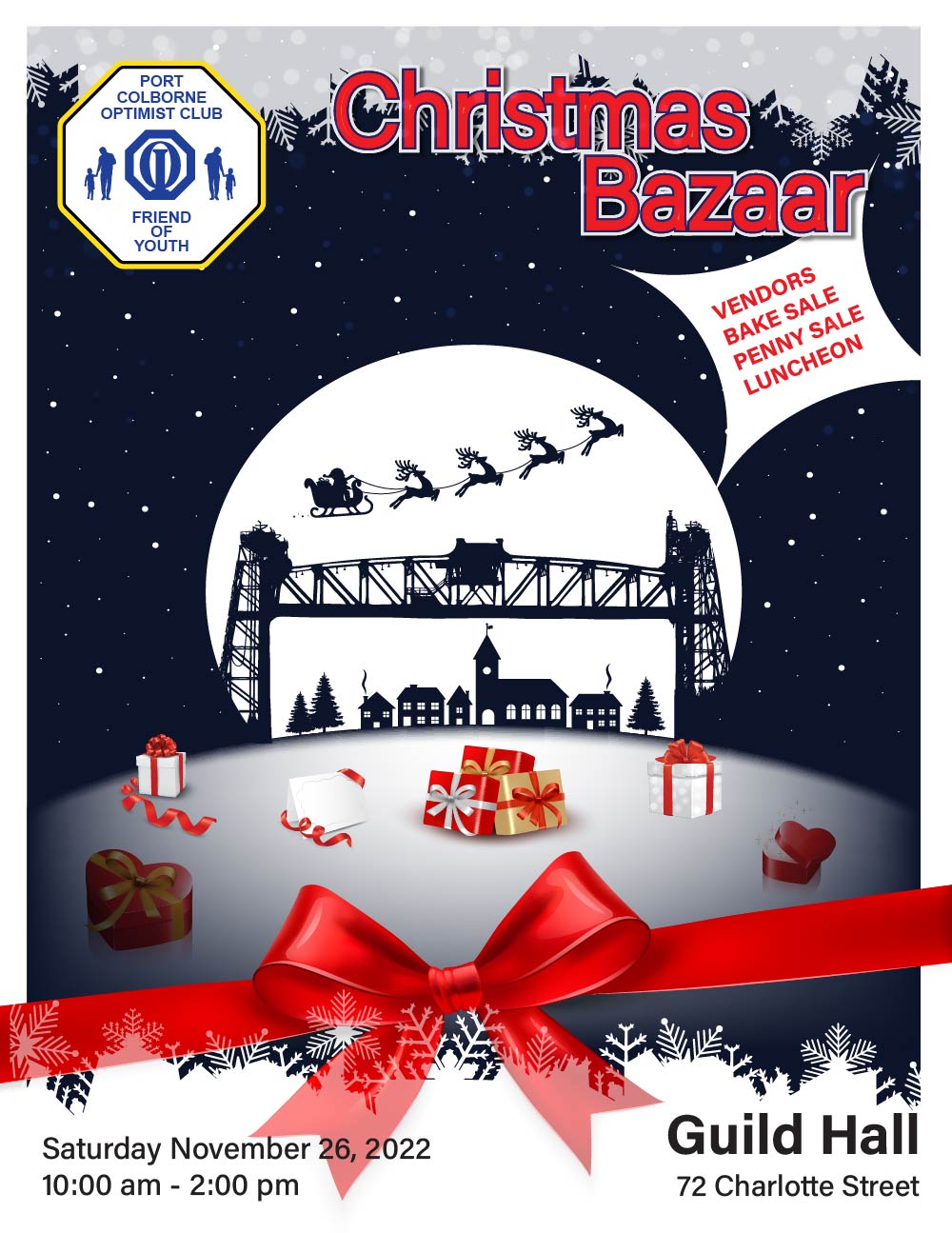 share this with friends: