The phrase 'Product Placement' usually refers to movie or TV production companies taking money from sponsors to promote products on screen. A family eating their brand of cereal, or a hero drinking a certain soda for example. That is not what this post is about. This is about Product Mock-ups.
In the design world, product placement has a far more literal and practical meaning.
Either photographically or by graphic magic, adding elements seamlessly into scenes to make the unreal look real (known as compositing) is the beating heart of modern marketing. Placing studio models onto beaches or into cars are two everyday examples. Compositing requires skill, planning, and time. This skill set deserves entire volumes of posts. Fortunately many can be found with a quick Internet search. The art of creating something which doesn't physically exist… well. That's next level.
Compositing non-existent products is a whole new ball game.
The product must first be created, usually from scratch while working closely with the client to match their product visualization. This requires design and practical skills beyond putting images together. You create from a blank canvas. The conceptual creation must then be matched with the angle, scale, and colour scheme of the carefully chosen target, and the lighting on the product matched to seem it was actually, physically, present in the scene. If done well, the viewer only knows when they are told that it's a composite mock-up. That's the Gold Standard: If you're not told, you think it's real.
What Are The Benefits Of Product Mock-ups?
A real and growing need exists for product mock-ups in the global business world.
Companies want to see how physical products will look before committing the resources to make them. Proof of concept mock-ups can be examined from all angles and discussed among stakeholders. Designs and packaging variations can be evaluated quickly, and costed accurately, without need to retool production lines or build multiple time consuming physical prototypes. It's a much faster, more responsive, and far less expensive workflow for getting a product to market.
Startups seeking financing have more chance of securing funds when they can show potential investors one or more mock-ups as part of their pitch, even if they haven't yet made a physical product. Focus groups can be given virtual products on which to provide feedback about packaging, shapes, colours, fonts, style.
Without spending a single dollar on production costs, it is possible to raise funds and take advance sales. For real-world examples, look no further than Kickstarter, IndieGoGo, and GoFundMe.
These are just some of the practical benefits that can be leveraged with a mock-up. It's clear to see that working this kind of composite into marketing and advertising campaigns can reap massive rewards.
Don't drink the Kool-Aid
Compositing of any kind is a valuable skill, for sure. It's also a very rewarding practical exercise and something I like to do when I have spare time and the mood takes me.
Tongue firmly in cheek, I created my very own product: Carl Aid. Clearly not a real product (unless someone wants to invest?) this proof of concept and shameless marketing tool is simply eye candy. It shows the power of mock-ups. A different colour? No problem. Move the logo? Done. Change the photo. Sure.
As a baseline target I used an iPhone snapshot of my real camera on a bar in Buffalo where we stopped for lunch. The napkin holder originally said 'Kahlua', so that had to go. Which led me to Carl, then to Carl Aid. Then, of course, I made and branded a can of soda, blending it with the low res original iPhoto and adding a little camera blur to match the depth of field. As a proof of concept, it does the job nicely.
As a purely practice piece this went quickly from 'Don't drink the Kahlua' to 'Drink the Carl Aid' and… well. Here's the finished proof of concept. Carl Aid tastes good and is good for you. Any business wanting to leverage this kind of product placement or work out campaign strategies can test that at any time.
Just pick up a phone. Let's do lunch. Maybe have a soft drink as we work. Maybe try the Carl-Aid.
Drink it…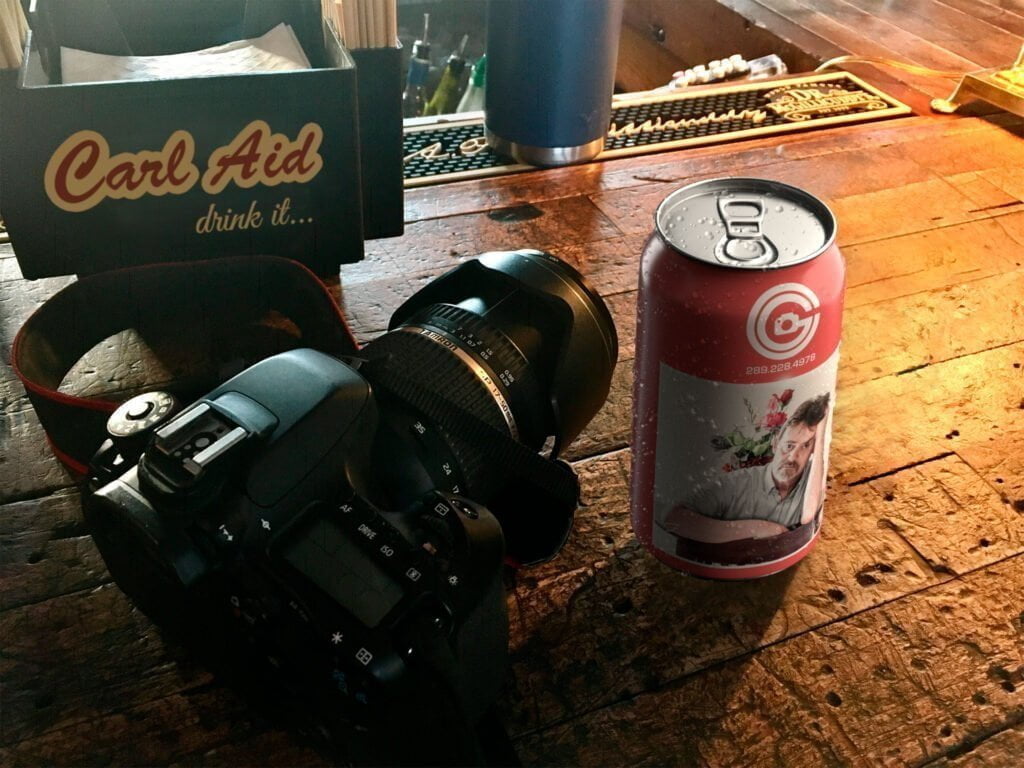 share this with friends: